About
Nestled in the heart of the Cèze valley, in Saint-Michel d'Euzet, the "Mas du Colombier", or Colombier for short, is a charming residence dating back to the early 19th century when it was originally built as a silkworm nursery.
Located just a stone's throw from Provence and at the crossroads between the French departments of the Drôme, Ardèche, Vaucluse and Gard, the Colombier is the ideal holiday for those who are passionate about History, traditional architecture, or simply eager to reconnect with a still wild and beautiful nature.
The Colombier is a home away from home with a touch of luxury you won't find just anywhere.
The house is having WIFI and a flat screen TV with satellite. The large, freshly renovated and fully equipped kitchen is fully stocked with all the utensils you need to help you prepare and enjoy delicious local dishes!
It hosts a total 5 bedrooms. One of the bedrooms and its ensuite have been designed to be wheelchair accessible (WA). All bedrooms are equipped air conditioning and are mosquito-proof.
La maison dispose d' 1 salle de bain et de 2 salles de douche (dont une PMR).   Toutes ces salles de bain et de douche possèdent des vasques/lavabos.   La maison contient 4 WC dont 2 hors salle d'eau.  Une petite buanderie met à votre service un Lave Linge
The house has 3 Bathroom and 4 toilets (2 of which are stand-alone). There is a functional laundry room with a washing machine available.
In the grounds, a large 10m x 5m swimming pool is also wheelchair accessible. The swimming pool is private, fully fenced and heated around summer. On the deck, many comfortable deckchairs are available as well as parasols.
Also, private, a large fenced garden, terraces naturally shaded by olive trees, tables and chairs to eat outside, parking for cars, a petanque pitch, a hammock, a BBQ …
Golfers, there are five courses less than 1 hour away in Uzès, Nimes Vacquerolles, Nimes Campagne, Ribaute-Les-Tavernes.
Cyclists, the dreaded Mont Ventoux will taunt you on the horizon.
Hikers, a network of about 300 km of marked trails and walks is open to you. There are 26 circuits where you can discover the wonders of this unique nature.
And for those who love their afternoon naps, you can simply enjoy a quiet siesta under our little grove of olive trees, lulled by the song of the cicadas and the birds!
The owners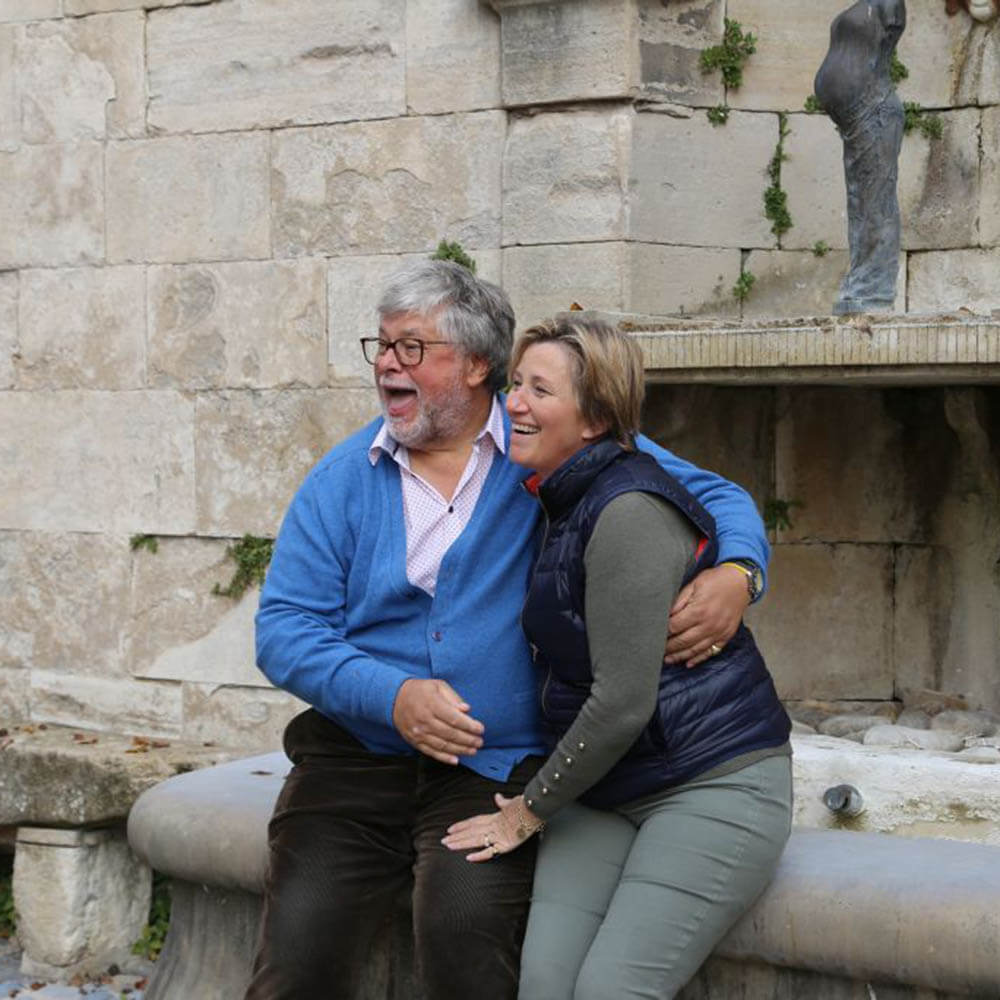 Jean-Philippe and Brigitte, now both in their early sixties, fell in love with this charming property which they named "Mas du Colombier" as an homage to the very first owners who, in addition to tending to silkworm, were also doves' breeders.
They had been looking for their dream house for a while, visiting dozens of places before falling head over heels for the Colombier! They knew they had found the place where they could spend quality time with their friends and family. Like themselves, the Colombier is fundamentally peaceful and joyful.  They couldn't have hoped for better.
The "Mas du Colombier" has been completely renovated during the winter 2017-2018.
The equipment
Outdoor
Private a wheelchair accessible swimming pool, 10 x 5m, heated and fenced in.
10 wave type deckchairs on the pool deck
2 large sunshades
2 shaded terraces adjoining the house
2 outdoor tables and 12 chairs in exotic wood
1 Stone BBQ
1 Boulodrome
1 Hammock
Olive Garden
Private parking for up to 4 cars
Indoor
House / villa 227m² (227 sq. ft)
Internet / Wifi
satellite TV
Freshly renovated kitchen: induction stove, oven, microwave, dishwasher, 2 fridges and 1 freezer, food processor, toaster, blender, coffee maker, kettle, numerous kitchen utensils, plenty of crockery....
5 rooms with air conditioning (one wheelchair accessible) and mosquito nets.
Comfortable bedding: 8 Single beds + 1 Queen bed
Duvets and pillows
Free baby equipment on request: 2 Beds, 2 high chairs & 1 bathtubs
1 bathroom-shower + sink
2 shower rooms (one wheelchair accessible)) + sink
Hair dryer
4 Toilets
Washing Machine
Iron and ironing board
Fireplace
Heating
Located close to Provence, at the crossroads of the Drôme, Ardèche, Vaucluse and Gard.
Nearby…
In the heart of the valley of the Cèze, it is in Saint-Michel D' euzet,
1km from " La Roque sur Cèze " and the " Cascade du Sautadet " (waterfalls),
8km from Goudargues (aka "Venice of the Gard"),
10km from Pont Saint Esprit,
30km from Barjac, Orange, Châteauneuf-du-Pape and Uzès, the Crocodile Farm,
40Km from Vallon Pont d'Arc and the Grotte Chauvet,
50km from Avignon, the Pont du Gard, Vaison la Romaine, the Mont Ventoux, the Bamboo plantation of Anduze,
… A little further on…
70km, the arenas of Nimes and Arles, Aix en Provence,
100km, the Camargue, the Cévennes National Park,
… and for the epicureans, the local winemakers (Domaine de la Cabrerie, Cave de Saint Laurent de Carnol, Domaine Belair, Cave de Saint Gély, Domaine de Saint Nabor, …) or "La Ferme du Gubernat" in Saint Laurent de Carnol (Foie gras, duck breasts and confits) will all delight you!
Practical information
Nearest motorway: A7 - Bollène (29km)
Nearest high-speed train stations: Avignon (50km) and Nîmes (70km)
Nearest airport: Nîmes-Garon (80km)
Nearest Beach : La Camargue - Sainte Marie de la Mer (100km)
Nearest sea port : Marseille (170km)
Provencal markets in the surroundings
Bakery in Saint Michel d' Euzet, Church Square (accessible on foot, 900m, order the day before)
Rates
The rental is for 1 week minimum from Saturday to Saturday. The rates are as follows:
| | Rental per week | Sheets (1 set p/p) | Cleaning |
| --- | --- | --- | --- |
| May | 1.600 € TTC | 20 € TTC | 150 €/S TTC |
| June | 1.900 € TTC | 20 € TTC | 150 €/S TTC |
| July | 2.600 € TTC | 20 € TTC | 150 €/S TTC |
| August | 2.600 € TTC | 20 € TTC | 150 €/S TTC |
| September | 1.900 € TTC | 20 € TTC | 150 €/S TTC |
Bed linen rental and final cleaning are compulsory.
Tourist tax: 1,5€ per person and per day
Bath and pool towels are not provided.
Included in the rental:
Private use of the premises during the rental period.
Water
Electricity
The heating
Air conditioning in the rooms
Mooie locatie. Mooie vakantiewoning met voldoende plaats, rustig gelegen, prachtige locatie. Groot en goed onderhouden zwembad.
Que la vie est belle. A peine les valises déposées, nous sommes à la maison mais .....avec en plus le chant des cigales, les oliviers, les lauriers en fleurs et la lavande! Maison familiale décorée avec beaucoup de goût, très confortable et de plus possédant la climatisation, nous permettant ainsi pendant notre séjour sous la canicule de cet été 2018 de passer de bonnes nuits. Merci aux propriétaires :-). Je recommande chaudement ce lieu magique.
Séjour superbe Maison pleine de charme, prestations de qualité (la climatisation dans les chambres est un vrai plus en cette année de canicule). Environnement superbe, maison située à proximité des cascades de sautadet. Avons passé un séjour magnifique
Superbe propriété rénovée avec des matériaux de pays, situation idéale Avignon, Nîmes, Nice, Belle bâtisse venant d'être rénovée à tous les niveaux, appartement pour handicapé, cuisine, chambres, piscine chauffée etc .... Bien située à proximité des commerces et restaurants, et visite de la région (Avignon, Nîmes, Nice ...) Air conditionné, vraiment tout confort. Propriétaire à l'écoute et sympa parlant Français, Anglais, Néerlandais Je recommande chaudement.
Maison très agréable. Nous avons passé quinze jours dans cette maison très bien équipée et bien située, au calme dans une impasse!
Previous
Next
Please refer to the calendar and complete the application form below. We will get back to you shortly.
Book your stay
For any request, we suggest you fill in the request form, we will get back to you as soon as possible.
Contact us
Brigitte and Jean-Philippe Pecher