About
Our 2024 season is already open for holiday rentals.
We will respond to your requests as quickly as possible so that we can accommodate your dates as best as possible.
Nestled in the heart of the Cèze valley, in Saint-Michel d'Euzet, the "Mas du Colombier", or Colombier for short, is a charming residence dating back to the early 19th century when it was originally built as a silkworm nursery.
Located just a stone's throw from Provence and at the crossroads between the French departments of the Drôme, Ardèche, Vaucluse and Gard, the Colombier is the ideal holiday for those who are passionate about History, traditional architecture, or simply eager to reconnect with a still wild and beautiful nature.
The Colombier is a home away from home with a touch of luxury you won't find just anywhere.
The house is having WIFI and a flat screen TV with satellite. The large, freshly renovated and fully equipped kitchen is fully stocked with all the utensils you need to help you prepare and enjoy delicious local dishes!
It hosts a total 5 bedrooms. One of the bedrooms and its ensuite have been designed to be wheelchair accessible (WA). All bedrooms are equipped air conditioning and are mosquito-proof.
La maison dispose d' 1 salle de bain et de 2 salles de douche (dont une PMR).   Toutes ces salles de bain et de douche possèdent des vasques/lavabos.   La maison contient 4 WC dont 2 hors salle d'eau.  Une petite buanderie met à votre service un Lave Linge
The house has 3 Bathroom and 4 toilets (2 of which are stand-alone). There is a functional laundry room with a washing machine available.
In the grounds, a large 10m x 5m swimming pool is also wheelchair accessible. The swimming pool is private, fully fenced and heated around summer. On the deck, many comfortable deckchairs are available as well as parasols.
Also, private, a large fenced garden, terraces naturally shaded by olive trees, tables and chairs to eat outside, parking for cars, a petanque pitch, a hammock, a BBQ …
Golfers, there are five courses less than 1 hour away in Uzès, Nimes Vacquerolles, Nimes Campagne, Ribaute-Les-Tavernes.
Cyclists, the dreaded Mont Ventoux will taunt you on the horizon.
Hikers, a network of about 300 km of marked trails and walks is open to you. There are 26 circuits where you can discover the wonders of this unique nature.
And for those who love their afternoon naps, you can simply enjoy a quiet siesta under our little grove of olive trees, lulled by the song of the cicadas and the birds!
Thank you to all those who, year after year and more and more, renew their trust in us! We are very happy to be able to meet their expectations and we do our utmost to improve their experience. Your opinions and comments are visible on our website:
www.masducolombier.com
The owners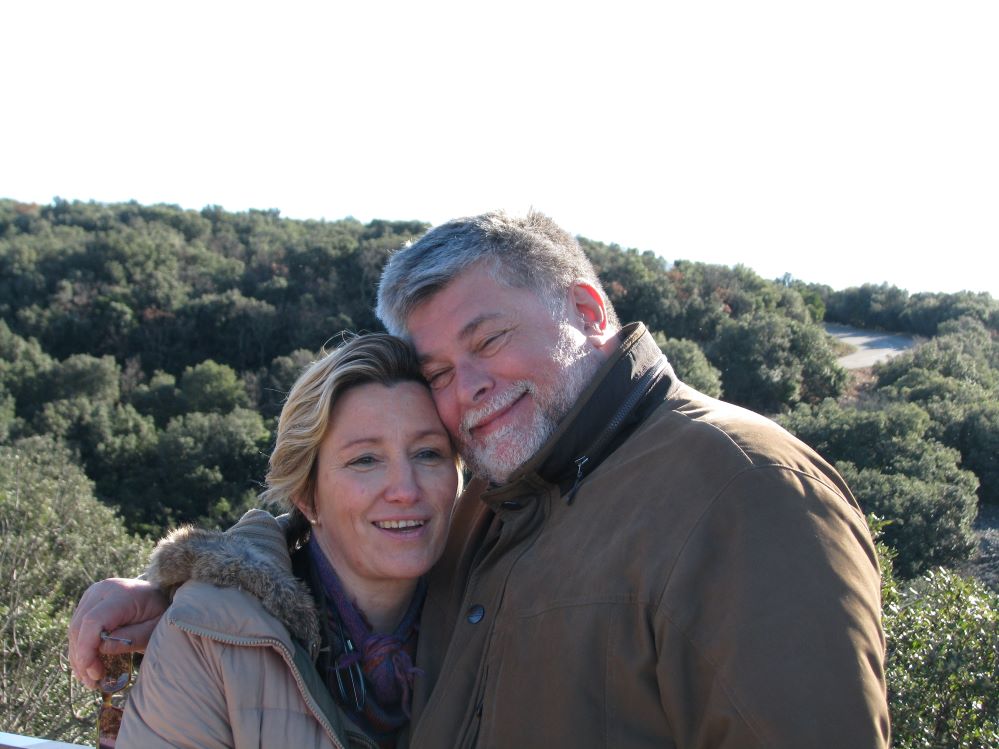 Jean-Philippe and Brigitte, now both in their early sixties, fell in love with this charming property which they named "Mas du Colombier" as an homage to the very first owners who, in addition to tending to silkworm, were also doves' breeders.
They had been looking for their dream house for a while, visiting dozens of places before falling head over heels for the Colombier! They knew they had found the place where they could spend quality time with their friends and family. Like themselves, the Colombier is fundamentally peaceful and joyful.  They couldn't have hoped for better.
The "Mas du Colombier" has been completely renovated during the winter 2017-2018.
The equipment
Outdoor
Private a wheelchair accessible swimming pool, 10 x 5m, heated and fenced in.
10 wave type deckchairs on the pool deck
2 large sunshades
2 shaded terraces adjoining the house
2 outdoor tables and 12 chairs in exotic wood
1 Stone BBQ
1 Boulodrome
1 Hammock
Olive Garden
Private parking for up to 4 cars
Indoor
House / villa 227m² (227 sq. ft)
Internet / Wifi
satellite TV
Freshly renovated kitchen: induction stove, oven, microwave, dishwasher, 2 fridges and 1 freezer, food processor, toaster, blender, coffee maker, kettle, numerous kitchen utensils, plenty of crockery....
5 rooms with air conditioning (one wheelchair accessible) and mosquito nets.
Comfortable bedding: 8 Single beds + 1 Queen bed
Duvets and pillows
Free baby equipment on request: 2 Beds, 2 high chairs & 1 bathtubs
1 bathroom-shower + sink
2 shower rooms (one wheelchair accessible)) + sink
Hair dryer
4 Toilets
Washing Machine
Iron and ironing board
Fireplace
Heating
Located close to Provence, at the crossroads of the Drôme, Ardèche, Vaucluse and Gard.
Nearby…
In the heart of the valley of the Cèze, it is in Saint-Michel D' euzet,
1km from " La Roque sur Cèze " and the " Cascade du Sautadet " (waterfalls),
8km from Goudargues (aka "Venice of the Gard"),
10km from Pont Saint Esprit,
30km from Barjac, Orange, Châteauneuf-du-Pape and Uzès, the Crocodile Farm,
40Km from Vallon Pont d'Arc and the Grotte Chauvet,
50km from Avignon, the Pont du Gard, Vaison la Romaine, the Mont Ventoux, the Bamboo plantation of Anduze,
… A little further on…
70km, the arenas of Nimes and Arles, Aix en Provence,
100km, the Camargue, the Cévennes National Park,
… and for the epicureans, the local winemakers (Domaine de la Cabrerie, Cave de Saint Laurent de Carnol, Domaine Belair, Cave de Saint Gély, Domaine de Saint Nabor, …) or "La Ferme du Gubernat" in Saint Laurent de Carnol (Foie gras, duck breasts and confits) will all delight you!
Practical information
Nearest motorway: A7 - Bollène (29km)
Nearest high-speed train stations: Avignon (50km) and Nîmes (70km)
Nearest airport: Nîmes-Garon (80km)
Nearest Beach : La Camargue - Sainte Marie de la Mer (100km)
Nearest sea port : Marseille (170km)
Provencal markets in the surroundings
Bakery in Saint Michel d' Euzet, Church Square (accessible on foot, 900m, order the day before)
Rates
The rental is for 1 week minimum from Saturday to Saturday. The rates are as follows:
| | Rental per week | Sheets (1 set p/p) | Cleaning |
| --- | --- | --- | --- |
| May - June 14 | 1.750 € TTC | 15 € p/p TTC | 120 €/w TTC |
| June 15 - July 5 | 2250 € TTC | 15 € p/p TTC | 120 €/w TTC |
| July 6 - August 23 | 2.950 € TTC | 15 € p/p TTC | 120 €/w TTC |
| August 24 - September 28 | 1750 € TTC | 15 € p/p TTC | 120 €/w TTC |
Bed linen rental and final cleaning are compulsory.
Tourist tax: 5% of the rental price
Bath and pool towels are not provided.
Included in the rental:
Private use of the premises during the rental period.
Water
Electricity
The heating
Air conditioning in the rooms
What a pleasure to spend a holiday in such an area. The calm is one of the major assets as well as the great comfort and the cachet of this silkworm. Everything is done to delight you. Space, functionality, well-being ... everything is there. General air conditioning allows a constant temperature in the house. Superb swimming pool, solarium and game of bowls ... paradise, what !!!!
We had a great family vacation with our children and grandchildren. The arrangement of the bedrooms and bathrooms allows each household to have its own privacy. The spacious fully-equipped kitchen, as well as the adjoining dining room, allowed the joint preparation of meals and aperitifs, each finding its place. How many watered-down meals and lively board game nights have we not shared on this superb shaded terrace! And the pride of our grandson showing us that he had been able to give up his armbands in the large swimming pool surrounded by olive trees (the salt sanitation system is really very pleasant compared to the chlorine). The hamlet is the starting point for countless walks to typical villages surrounded by vineyards and lavender fields, far from tourist areas. In short, peace and privacy guaranteed, an idyllic vacation!
We were able to reunite for the first time all our children with their spouses and our 4 grandchildren for a week of vacation. We had chosen the Mas du Colombier without knowing the house or the surrounding villages, the description of the house and the photos had already caught our attention. It was even better than we imagined the house is perfectly suitable for a family, the terrace, the kitchen is very very well equipped for families. The house is soothing and the swimming pool is the joy of all. Calm also reigns without being isolated. The owners have made it a revitalizing family place.
On behalf of all my family I would like to thank you for your trust in renting us your house. We had a wonderful but far too short week in your region where there is so much to discover. We tested the good addresses that you left us and all of them seduced us. Your house is extremely pleasant to live in because everyone finds their corner, it is very well equipped, everything has been designed to accommodate a large family. My children had an excellent evening playing pétanque, the swimming pool with its many sun loungers was overwhelming and I admit that I took advantage of the hammock after lunch… I really recommend this beautiful house, and I hope to come back very soon ! Another big thank you for your welcome.
There are places where the spirit of family, friendship and camaraderie is so present that you can feel them as soon as you walk through the front door. Your home is clearly one of them. There were seven of us and each of us quickly found his place and his bearings. The anxious found peace there. The insomniac found sleep there. A princess found her fairytale bed there. Lovebirds have found a room there, giving them the discretion of endless nightly discussions. The epicurean has found a dream kitchen space where to play with local products. Athletes have found a blue water basin there to jump, dive, swim, dive back and jump again. Parents have found joy and laughter in the faces of their children. The maniac, even after long searches, found nothing and put away, reassured, her panoply of cleaning and disinfectant products. You have made you feel at home. Could this be the magic formula for the perfect vacation? There are seven of us to believe it. Thank you
We had a wonderful holiday at "Mas du Colombier". We really enjoyed the silence and tranquility that reigns there. The house is very clean and well equipped. For my husband, who uses a wheelchair, all places in the house are easily accessible. Also the designed pad for entering and leaving the pool is very useful. The disabled room / bathroom is very practical. It is also a good thing that pets are not allowed because our grandson suffers from asthma. Yes, we really found our place there. Besides, if we have already booked 2022 and although 2023 is still far away but we like to anticipate, (It is not easy for us to find a suitable house and your house meets all our wishes). Could you please let us know the available dates? We hope to be able to come back here often.
A short message to thank you once again and also to tell you how much the place was appreciated by the 4 couples, each one finding here and there his happiness. The swimming pool has been a great success, the bowling alley as well, the BBQ as well, the super equipped kitchen has allowed us to realize what we had in mind for the meals, the terrace and its awning has welcomed all our meals without exception. We were delighted with the clean premises. What a joy to return! We, handicaped, have found the place with pleasure and happiness!
We had a wonderful holiday at Mas du Colombier. Everything was so perfect, the grounds were beautiful, the swimming pool was clean and there was a lovely space to play in, the house was well thought out and everything was provided for, from the smallest kitchen utensil to the Clim! The house was also very kid friendly and located close to many activities to do, a relaxing calm reigned only by the song of the crickets! In short we highly recommend this little haven of paradise, we will return there for sure! Many thanks, F, B, A, A, and A
Very spacious, clean and pleasant house. The house, garden and pool are very well maintained. The kitchen is well equipped with utensils and glasses, food processor. Very suitable for a family with children of all ages. The area is very quiet, it's really a nice place to spend a relaxing week of holiday. The host is available and responsive, thanks also to Jos for the welcome and support during the stay. I recommend without any hesitation.
Again, we enjoyed your beautiful house. Despite the heat, the house stayed nice and cool. Because it was very hot we made much use of the beautiful, large swimming pool. It is nice that the pool is cleaned twice a week. The kitchen is clean and fully equipped, there is also a nice barbecue in the garden. There are many brochures with information about everything there is to do in the area, However, it was far too hot to do much. We will come back next year.
The Mas du Colombier offers what every holidaymaker is looking for, a family or friends stay in incomparable comfort for ten people. The house's plus point is that it has thought of making a studio for a person with reduced mobility. It is simply brilliant, which allowed our group of friends to travel with our big friend. Thanks to Jean-Philippe and Brigitte! The house, the garden, the swimming pool, the ball field, the BBQ, the shady terrace, the calm, ... everything lends itself to feeling "happy" to share these privileged moments that is a great friendship. This house brings us together, welcomes us and brings us together and these are delightful moments. A week, not really like the others. Go there and you will see how the magic of the place will bewitch you.
"We had a wonderful week at Mas du Colombier. We were 3 couples with 2 young children and everyone was very comfortable. The house is spacious, cool, especially the bedrooms (important in hot weather), the kitchen is incredibly well equipped (in fact we've never known a holiday home so well equipped! I always bring my knives sharpened, they stayed in the luggage!), a large shaded terrace with a beautiful large Fermob table, and what can I say about the pool! Large and impeccably clean, with excellent deckchairs and parasols! Nothing is left to chance in this beautiful big house, right down to the (obligatory) wrought-iron fence around the pool (none of those awful plastic or woven-iron fences) ... The region is beautiful, with the lovely villages of la Roque-sur-ceze, Montclus (small authentic market), Goudargue (large tourist market)... and for the (very) sporty, the mythical Mont Ventoux by bike (3 climbs for our Eddy Merckx, including two on the same day). We'll be glad to come back! "
We spent the last 2 weeks of July at Mas du Colombier. A spacious house (we were a group of 9 adults), very well equipped and comfortable. We discovered this beautiful region of the Gard and the small villages around Saint Michel d'Euzet, the Cascades du Sautadet, Cornillon, La Roque sur Cèze, Uzès, Avignon .... ! Discover a great restaurant that we warmly recommend... Le Mas du Bélier in La Roque sur Cèze! We have wonderful memories of these two weeks at the Mas du Colombier and we'll be back! Thanks also to Joss for all the little WiFi troubleshooting and pool maintenance! We warmly recommend this rental!
2 weeks, too short, in this lovely house, spacious, welcoming, CLEAN, with air conditioning in all five bedrooms, which is a real plus. Large, fully equipped kitchen. The ground floor, the swimming pool and the terraces are accessible to PRM. Beautiful shaded terrace, even at midday in July! Our children are free and like fish in the water! We will come back soon (and already next year :-) ).
Previous
Next
Please refer to the calendar and complete the application form below. We will get back to you shortly.
Book your stay
For any request, we suggest you fill in the request form, we will get back to you as soon as possible.
Contact us
Brigitte and Jean-Philippe Pecher